[Français]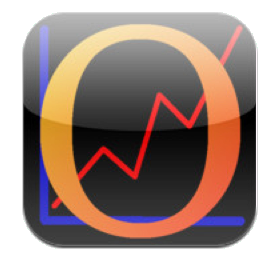 Ornella - iPhone App -
Record, track, draw, compare, import, export daily data
Series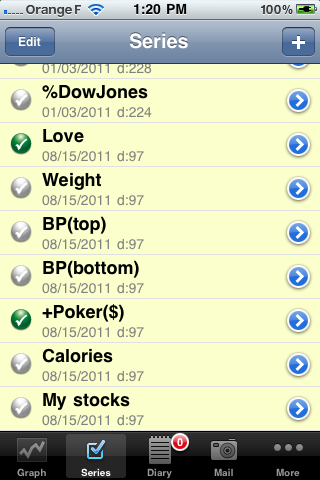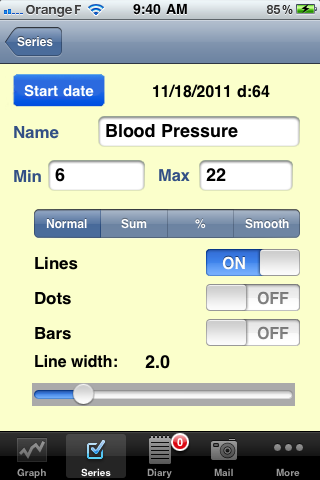 Check/uncheck series you want to see in the graph or in the diary.
to add new series.
to modify series : name, min/max values, type, display parameters. These parameters - including name - can be modified at any time.
Different series types :

standard: default
percentage: % evolution from day 1
sum: aggregates daily values
smooth: nice curves (7-days moving average)

Edit to delete series. Warning : deleting a serie deletes all its data.
Diary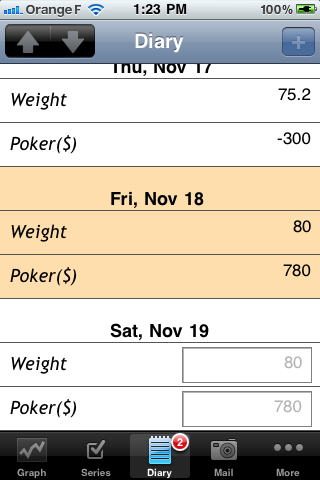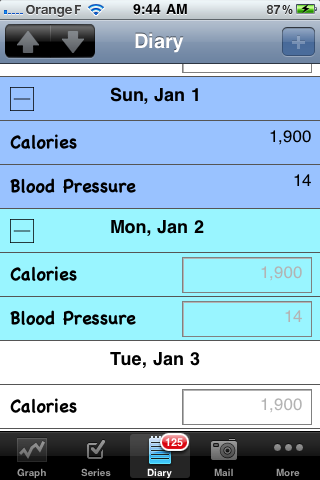 to add new days.
Tap the value (number) field to add/modify a value. The value at D-1 is displayed in light gray
You can enter numbers or numerical expressions : 3 + 666/0.5
Values < min or > max are highlited.
Tips: '&' recalls the value at D-1. '!' inserts '+;'
'?' inserts a blank (undefined) value.
Graph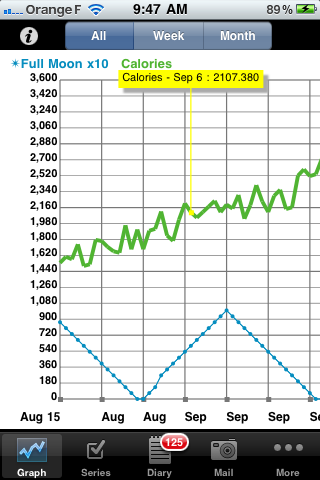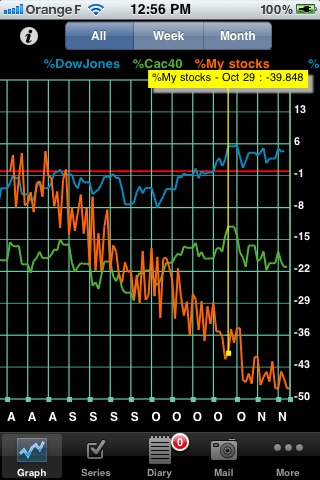 Chose the display type (all, last week, last month). Only checked series are displayed. Tip: to compare two series, chose '%' in the series detail view.
Scroll to right or left. Double tap to scroll back to left.
Tap, or press and slide to display daily values balloons for the nearest curve.
Mail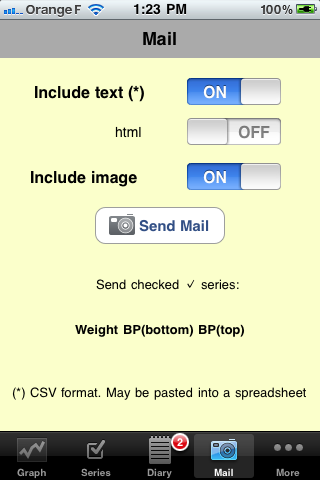 Send text and/or image. Only checked series are sent.
Chose 'html' for a nice display. Else the sent mail is in text (CSV = comma separated values) format, and can be pasted into a spreadsheet.
More
Remember you can use the Edit button in the More panel to arrange icons by dragging them onto the bottom bar.
Calendar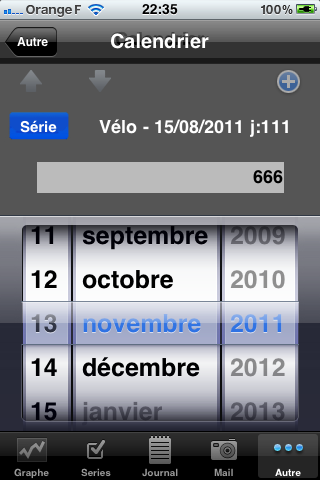 This is an other view of the diary, one serie at a time.
Serie button to switch between checked series.
to add new days, one at a time.
Tap the value (number) field to add/modify a value. The value at D-1 is displayed in light gray.
up/down arrows to go to the serie start/end date
Web import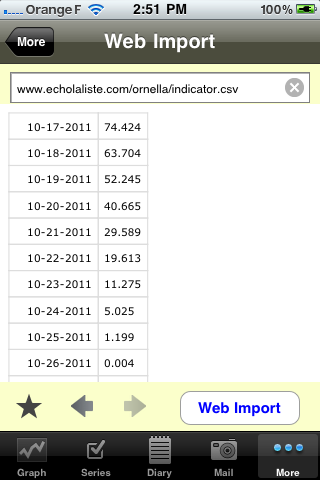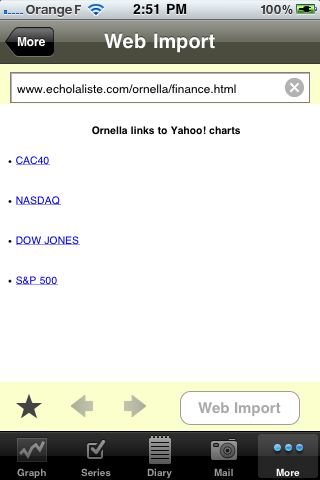 Import web pages in CSV format :

date ; value
date ; value
...

Enter the url address, then Go, then press the Web import button.
An example : www.echolalie.org/ornella/indicator.csv
The Web import view includes the navigation history and a set of pre-defined bookmarks : ★ button.
Tools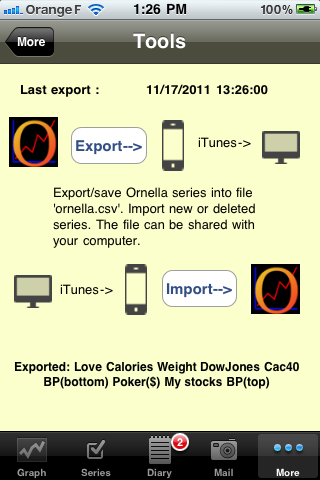 Export : Save series onto you iPhone, in the ornella.csv file. All series are saved.
Import : Restore deleted series, or import new series from the same file. Import does nothing if the serie is already present.
The file can be shared between your iPhone and your computer, using iTunes. Documentation HERE.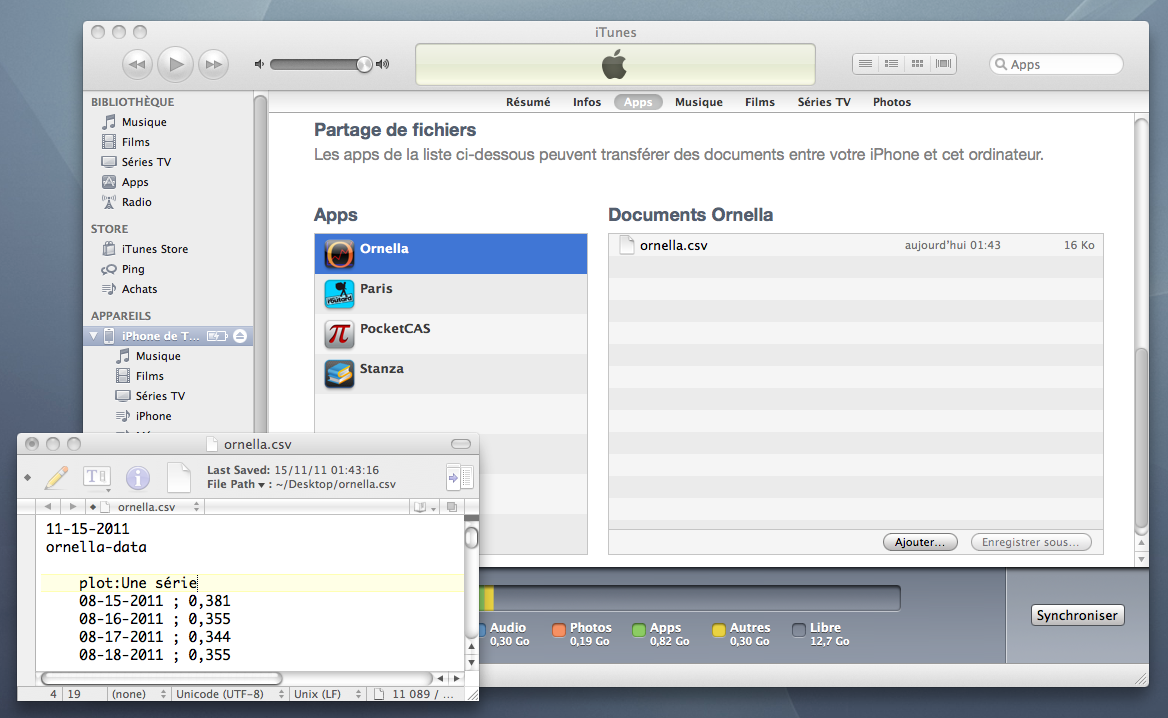 Graph preferences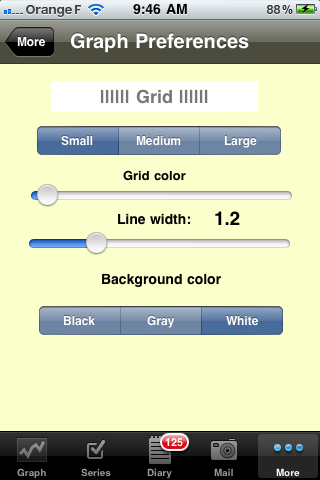 To set the grid drawing parameters (size,colors, ...)
Diary preferences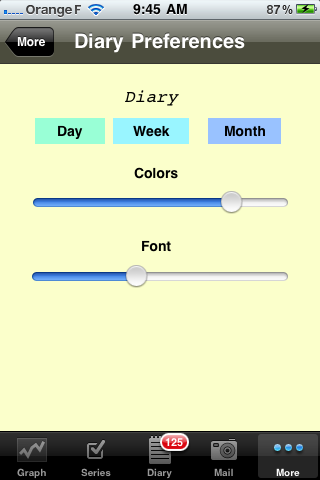 To set the diary drawing parameters (font,colors, ...)
FAQ & Tips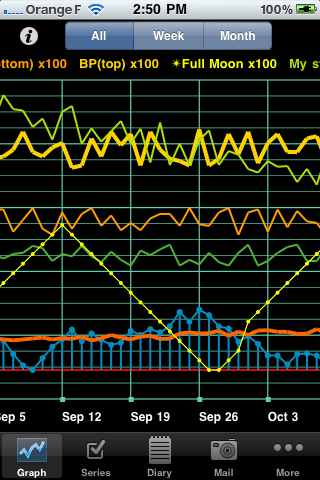 Do not mix too many curves in the same drawing ...
Scaling. Ornella's curves are when possible automatically scaled, ie x10, x100, .. Add a '*' suffix to prevent automatic scaling. Eg: Weight*. Add a x10, x100, x1000 or /10, /100, /1000, (log) suffix to force a scale. Eg: Score/100 .
USEFUL LINKS
© Echolalie & J. Tramu